This is part two of my "Winter Favorites" (

here's the first

about hair care if you missed it). This post is focused on skin care – more

specifically the skin on my face. This requires the most work, but I've found the products below have helped make New England winters more bearable.
P
hilosophy Micro-Delivery Exfoliating Wash
I've been using this exfoliating wash for years and I use this almost every day during winter months. I've been trying a few different face washes for my day-to-day routine, but I just don't feel like they clean my face as much as I need. Plus, with the cold winter weather drying my skin out, it flakes like crazy and needs a little extra scrubbing. This leaves my skin super soft and supple, and once I apply my moisturizer I feel refreshed, less like a flaky biscuit and more like a human being.
The Body Shop Vitamin E Nourishing Night Cream
I started out just using this vitamin E cream at night (since that is what it was made for), but once the weather got colder and dryer, I tried using this as my lotion when I get out of the shower in the morning. It turns out, I need this kind of moisture so it's not too heavy for me to put on and then apply my makeup shortly after. My skin doesn't flake during the day, nor does it get greasy – perfect. If you find that this is too heavy for you, they also make a lighter version.
Clinique Advanced Concealer
I've been using this concealer for my under eye area for many years, and I use small dabs of it for other parts of my face when it needs it from time to time. It doesn't dry out my skin, doesn't give me the "raccoon eyes" look, and sits well under my powder foundation. I know experts advise that you place concealer on top of foundation, but that just doesn't work for me, so…. Yeah. I don't do it. I use this year-round so it isn't winter-specific, but I figure it's worth mentioning.
bareMinerals Matte Foundation Broad Spectrum SPF 15
I have extremely sensitive skin, so I have a really difficult time finding foundations that won't irritate my skin. I've been using this bareMinerals mineral foundation for many years because it is the only thing I've found that doesn't cause me problems. I can't say that it helps my skin, but my only real requirement is that it doesn't cause my skin to breakout so I guess the bar is pretty low. I'd like to find something that gives me more of a smooth look (if that makes sense), but this looks totally natural so I like it.
Neosporin Lip Health, Overnight Renewal Therapy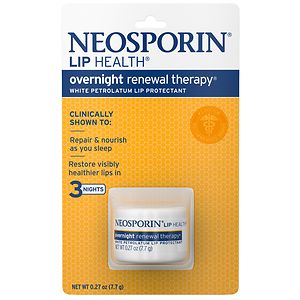 I started using this overnight lip treatment earlier this year because I found that my lips seemed to be getting really chapped for seemingly no reason – I drink craploads (yes, that's the scientific measurement) of water and do everything I can to keep them moisturized, but for whatever reason they're just always chapped. I have this in my nightstand and I just apply a light coat on my lips before I go to bed and when I wake up they feel much better and they haven't cracked/bled since I started using this. Now I just need to find a solution for the daylight hours since it's still a constant problem. Grrrr. Any recommendations are welcome, I'm open to trying just about anything!
Freeman Dead Sea Minerals Facial Anti-Stress Mask
I'm currently using
this selection
from the Freeman line of facial masks, mostly because I love the smell and like making the joke that I just blue myself.
After a week of being forced to wear makeup in the office to look like a human being, my skin wants, and deserves, a break on the weekends. So I tend to use this on a Sunday morning when I'm wandering around the house doing some cleaning and sipping my hot cup of coffee. I just spread it on my face, do my thing for 15-20 minutes and then rinse it off with coolish water (I prefer it to warm water). I usually don't even need to apply moisturizer after I use this, and my skin feels great. I've used a couple of the others, but have a hard time finding them all in my local drugstores. One of these days I might just order a few of them to try them out – the
Goji Berry Facial Hydration Mask
would probably be great for this time of year.
---