Are you a member of Food Blogger Pro yet? If not, you better hurry up! They're going to be closing their doors to new members in 8 days.
If you're not familiar with Food Blogger Pro, it's a fantastic online portal with essential tricks and tips to create a food blog, grow its traffic, monetize it, implement a social media strategy that works, find unicorns in fields of lollipops… wait, not that last one. But the rest of it is for real!
I can't emphasize enough how worthwhile the membership is for those who are getting started in the food blogosphere. Lindsay and Bjork run the site Pinch of Yum (which is drool-worthy) and know what they're talking about. They even provide their readers with monthly income reports to show you what does and doesn't work. Who does that? I KNOW. THEY'RE AWESOME. WHY AM I YELLING?!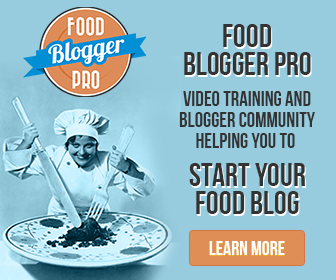 Phew. Anyway. I haven't been a member long, but the things I've learned so far have already made a difference. There have even been a few moments of me slapping myself in the forehead and saying "Doh!" over silly mistakes I've been making all along.
Make sure you sign up for Food Blogger Pro before 11/19 so that you don't miss out on all the ridiculously user friendly, hilarious, and – I suppose, most importantly – useful tutorials they're providing. Sign up using the linked banned below and come hang out with me in the FBP forums while I become cool and learn all sorts of stuff.
↓↓
Disclosure: Some of the links in this post are affiliate links, which means that I may earn a commission if you click on the link or make a purchase using the link.