Once upon a time I thought meringues sucked.
I know.
Then I realized you can do so much more with them. You can add flavors, and sprinkles, and color. And I also realized I don't
have
to make them dry as a bone. I like them to be a little bit soft and tacky – and no, I don't mean this kind of tacky: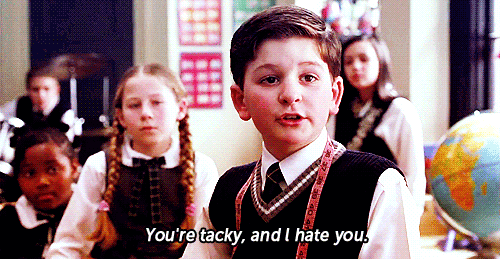 So during one of New England's many blizzard this winter, I decided to have a bake-off with myself. I made many different baked goods. No, really –
many.
I came across this recipe on
Lemons for Lulu
and had to try it. I made a few changes for myself, and I actually added some chocolate sprinkles to dip them in after the chocolate later, but I didn't get any pictures of those. My bad.
Chocolate Dipped Cherry Meringues
Adapted heavily from Lemons for Lulu
[Makes around 30]
4 egg whites, room temperature
1/2 teaspoon cream of tartar
1/2 teaspoon salt
1 1/2 cups sugar
2 teaspoons maraschino cherry juice
Pink food coloring (enough for desired color – for me, 5 drops)
3/4 cup dark chocolate chips, melted
1/4 teaspoon shortening (optional)
1) Preheat oven to lowest possible oven setting (for me, it was "low" which is 170 degrees F) and prepare two baking sheets with parchment paper.
2) Separate eggs and let the whites come to room temperature in a large mixing bowl. Discard yolks (or save them for something else!)
3) Add cream of tartar and salt to clean mixing bowl (not kidding on this – it needs to be squeaky clean). Whip on a high setting until
soft peaks
form.
4) Add sugar to mixing bowl 1/4 cup at a time, whipping in between each addition. Whip on high setting until stiff peaks form.
5) Add cherry juice and taste test – if you want more cherry flavor, just add a little bit more and taste test again.
6) Add food coloring, one drop at a time, and beat well in between each addition until meringues have the desired pink color.
7) Pour mixture into piping bag with whatever kind of tip you'd like – I used a star tip. Pipe meringues onto prepared baking sheets an inch or so apart.
8) Place in oven and bake for about an hour. Check in on them every 15 minutes to make sure they're not browning. Meringues should be set and dry.
9) Turn off the oven and let them sit in there they're until cooled (about another hour). You'll want to leave the door closed if you want them to be completely dry, but if you leave the door a little bit open they'll be a little bit soft (I actually prefer them this way).
10) Once meringues are completely dry and cool, you'll want to melt chocolate according to package directions in a shallow bowl. If you want the chocolate to be even smoother, add 1/4 teaspoon shortening (I didn't need to use it on these as I used high quality chocolate). Dip the bottom half of each meringue in the chocolate and set back on lined pans. Allow chocolate to set, and then try to eat just one. You know, to make sure you're not going to poison anyone. Maybe try a few – just in case.