My friend Tim made a wonderful observation recently. Let me tell you about it.
I'm sure you're all familiar with the Brick Tamland character from the Anchorman movie series. As described by Wikipedia:
"… the weatherman for the KVWN news team who has a habit of providing unrequested or irrelevant information. Tamland is good-hearted and loyal but not very bright, having an I.Q. of 48, making him intellectually disabled. Brick is an innocent led astray by the rest of the group."
And now, as described by himself (in character, of course) while spooning mayonnaise into a toaster with a big smile on his face:
"I'm Brick Tamland. People seem to like me because I am polite and I am rarely late. I like to eat ice cream and I really enjoy a nice pair of slacks. Years later, a doctor will tell me that I have an I.Q. of 48 and am what some people call mentally retarded."

For anyone that lives in the lower-New Hampshire or Boston area, you are likely also familiar with local meteorologist Al Kaprielian. He is known for his abrupt and excited manner of speaking and distinctive voice that usually starts with a high-pitched, chirpy "GOOD EVENING!" that sounds like a mix between an excited kid going through puberty and a squeaky dog toy. You could also argue that he's drunk due to his constant stammering and, at times, incoherent speech (although to be fair, he has a thick Boston accent that I struggle with all on its own). He's very discombobulated, he makes sounds like the Three Stooges, randomly walks on and off camera during broadcast, and has been known launch into a set of jumping jacks on the air. Some people have speculated there might be something "off" about him, mentally. While this doesn't seem to be the case (and I mean no disrespect, just reiterating the speculation), he is… unique. Check out
this video
for a look at this New England "cult favorite". While he is very eccentric and a total odd-ball, he is very entertaining which explains his cult-like following on the East Coast.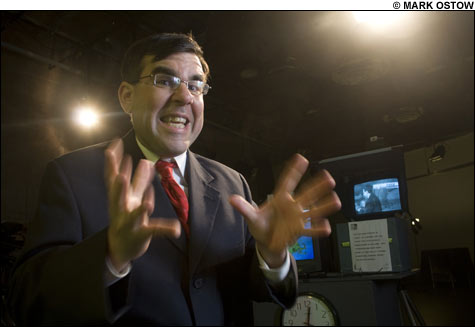 Now to the point brought up by Tim: Steve Carell (who plays Brick in the movies) is from Acton, Massachusetts. The way he plays the character can at times be very reminiscent of Al. Is there a chance he bases the character at least partially on Al Kaprielian?
Mr. Carell: If you see this, I would love to find out – because if this even a little bit true, that would just make me love Brick more than I already do. And if it's not true, then my feelings remain unchanged and we can all move on with our lives.
---